GIS Passes EASA Accreditation Audit
10 September 2018

Gatterdam Industrial Services in Louisville, Kentucky, has been re-approved through a third-party audit as an EASA Accredited Service Center.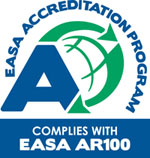 Gatterdam Industrial Services has demonstrated that it continues to follow the prescribed good practices to consistently deliver quality electromechanical repairs that maintain or improve AC electric motor efficiency and reliability. The firm was initially accredited in 2015 and was required to submit self-audit documentation for each of two years afterward, followed by the on-site audit recently completed.

"The re-approval of Gatterdam Industrial Services' Accreditation status affirms the company's continuing commitment to excellence," said Linda Raynes, CAE, EASA president & CEO. "The re-approval offers external validation that the company adheres to good practices by submitting to an independent, third-party audit, on a triennial basis."

The criteria for becoming EASA Accredited are based on ANSI/EASA AR100: Recommended Practice for the Repair of Rotating Electrical Apparatus and The Good Practice Guide of The Effect of Repair/Rewinding on Motor Efficiency.

The Electrical Apparatus Service Association (EASA) is The Electro•Mechanical Authority, an international trade organization of about 1,800 electromechanical sales and service firms in nearly 70 countries. See www.easa.com. EASA member companies
provide repair, service and sales for the operation and maintenance of electric motors, generators, drives, controls, pumps and other electromechanical equipment. The Association provides members with direct technical support, the industry repair standard (ANSI/EASA AR100) and education, as well as technical, management and safetyrelated reference materials.